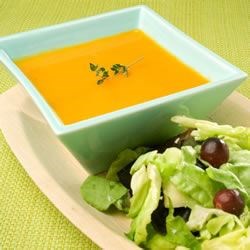 Soup...it is the nectar of the gods to me. I adore soup. I have blogged on my love of soup before. I am the queen of soup some may say. Then enters youngest daughters boyfriend. He makes soup. Okay you say he makes soup, what is the big deal? I am an amazing soup maker, always from scratch, fresh ingredients. None of this processed anything. Right? One day Jenna dear comes home with a cup of soup from boyfriend. Hmmm it is my favorite soup, minestrone, my families heritage. I can MAKE this soup. So I take a bite thinking how sweet he sent me some soup. My jaw drops and I am at first shocked, then puzzled, then what????? This is ridiculously, the best soup I have ever tasted, for sure the best minestrone. After weeks of I don't believe it...I would even say a little miffed =) I finally corner boyfriend. He grins and gives me that downcast shy look and shrugs his shoulders. I want to know HOW he made that soup???? Roasting he says. What I say? He tells me he simply just roasted all the veggies first then makes his soup. I do disensemble most of the ingredients from him...little by little he gives me his list. The end being fresh basil and rosemary. Really in the middle of winter? Who is this kid?
So the moral of the story I guess is even and old dog can learn new tricks. Even plain old chicken soup tastes amazing when you simply roast all the veggies first in a little olive oil tossed with garlic, salt and pepper. So today I am trying butternut squash soup. He still won't tell me his exact ingredients, but I will out do this young wipper snapper if it is the last thing I cook!!!!!
Post note: My soup was amazing! I even came up with a few more ingredients then boyfriend uses...haha!
So here is the rough recipe:
Cut into sections the butternut squash and micro wave 6 minutes, let rest, then six more minutes.
(okay so I didn't roast this part because it is easier to scoop out squash then to cut up and peel hard squash)
Rough chop two stalks of celery, 1 onion, 1 apple, 2 carrots. Toss with a few tablespoons of olive oil, fresh minced garlic, salt and pepper. Roast in oven on a cookie sheet 20 minutes or so 375. Scoop out squash from skin after it is cooled.
Put all ingredients in a large pot, add one box of organic chicken broth, salt and pepper, two handfuls of brown sugar, (maybe about 6 tb). 1 tsp or so of poultry seasoning, a dash more of just sage. Use a hand held immersion blender in pot till smooth. Or dump it all in your regular blender. I also added about 3 tablespoons of butter. Boyfriend also added potatoes, which I think I will try next time. Oh and a touch of fresh grated nutmeg. At the end I also added more salt and about 1/4 cup of cream cheese.
It turned out heavenly and Jenna dear even takes it to work with her, where boyfriend make his soup for the coffee shop. Round 2...I win =)